Here's how to join SWA Ultimate:
Please take note that we highly recommend depositing to BDO.
Here's how to join SWA Ultimate (Supreme Wealth Alliance Ultimate). We know you're excited about the SWA Online Library and also about Pay Plans 1 & 2 (as explained in this quick video):
There are two (2) main options when joining SWA...
If you're outside the Philippines, use Western Union and follow the instructions found on this page (click here).
If you're in the Philippines, or have the ability to remit to a Banco De Oro (BDO) bank account, then deposit (or remit) P2,500 to this BDO bank account:
UPDATE: Francis Chaves will be moving forward with Supreme Wealth Alliance Unlimited Corporation. Please disregard the bank account info below of Supreme Wealth Alliance Philippines Inc (SWAPI).

Account Type: BDO Peso Savings
Account number: 5320-2036-92
Account Name: Supreme Wealth Alliance Philippines Inc.

For those abroad who are asking what is the location of the BDO branch of account of Supreme Wealth Alliance Philippines, Inc (SWAPI), it's Evangelista - Makati.
Step #2: Please scan your Western Union Receipt or BDO Bank Deposit.
Step #3: Please send the scanned image to info@SupremeWealthAlliance.net along with:
Your Preferred SWA Username
(suggestion: firstnamelastname - Example: juandelacruz)
Your Full Name
Your Email Address
Your SWA Upline: Manny Viloria
Please take note of the following:
Western Union MTCN / Remittance Center Reference/Transaction Number
BDO Branch of Deposit and Transaction Reference Number
Here are some screenshots to guide you in finding the Reference/Transaction Number: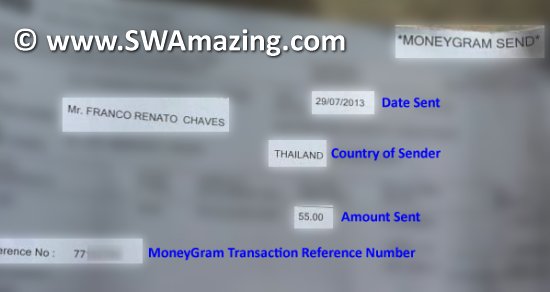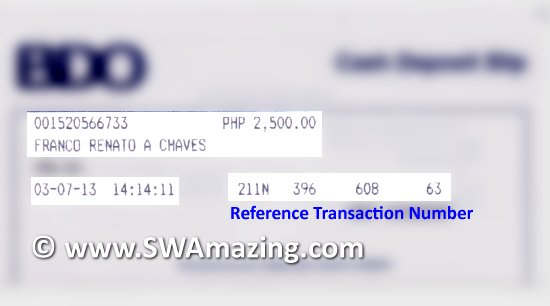 After noting the data such as the Reference Transaction Number, you are now ready to...
Register your SWA Account Online
When you register your SWA account using the link shown in Step 4 below, you will gain access to the following after the SWA Admin activates your registered account (in 2 banking days after you correctly register your SWA account):
Access to the SWA Ultimate Online Library
Access to the Online Marketing Tips & Training of Manny Viloria
QuickLinks:
Join SWA Ultimate via BDO
Join SWA Ultimate via Western Union
...then click on the circle to the left of the appropriate choice (e.g., MoneyGram, BDO).
Here's a screenshot: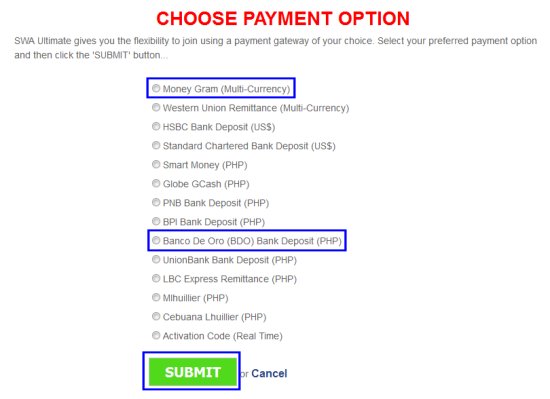 Next, fill-up the SWA Registration Form:
NOTE: If you are registering more than one account, and you made a single payment or deposit, please add a letter at the end of the Transaction Reference Number.
This will alert the SWA Admin that your registration is part of several registrations covered by a single payment.
For example, if you deposited P5,000 to BDO and the reference number is 021N1234, when you register the first SWA Account please enter 021N1234A for the SWA first account's Transaction Reference Number, then 021N1234B for the second SWA account.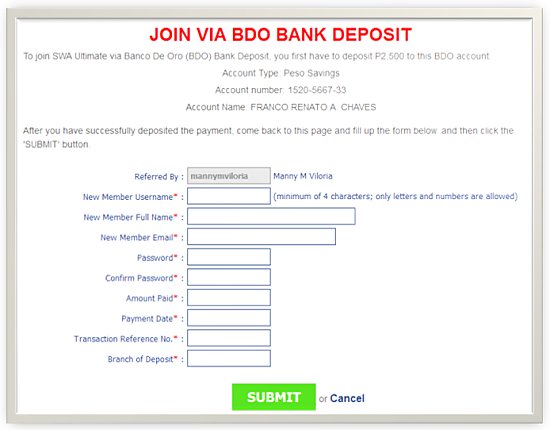 Step #5: Cick on the SUBMIT button.
Please give the SWA Admin up to 2 banking days (weekends and holidays are not counted) to activate your SWA Account.
Once your SWA Account is activated, you will receive an email notifying you about the successful activation of your account.
Step #6: Read this -- SWA Ultimate Getting Started Guide
(http://SupremeWealthAlliancex.com/get-started/)
Congratulations and Welcome to SWA! 🙂
Kind regards,
Manny Viloria